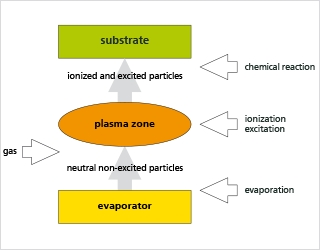 Effective vacuum coating requires high coating rates over large areas. However, the way towards higher coating rates, especially for high-rate deposition, is not straightforward, since the fast growing layers feature columnar layer structures.
Even for bond formation during a reactive evaporation process, the energies of the vapor particles are often insufficient for stoichiometric deposition of oxide, nitride or carbide layers. A suitable way of increasing the energy of the particles is plasma activation during the evaporation.
High-power sources for dense plasmas, which allow a high coating rate and the coating of large areas, are required for this purpoose. At Fraunhofer FEP, processes giving high-rate deposition with differently steered arc discharges (SAD and HAD processes) have been developed.