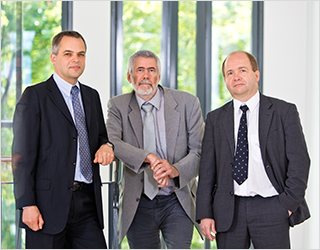 Valued partners and esteemed readers,

Society was strongly influenced in 2019 by the commitment of young people to climate protection. By March 2019, several tens of thousands of scientists with the "Scientists for Future" association have also been supporting demands for climate and biosphere protection.

The Fraunhofer FEP has been working on sustainable products such as biodegradable electronics, environmentally friendly technologies for low-emission mobility, and seed treatment since well before this major public discourse. For decades, all our research activities have been focused on energy-efficient, forward-looking solutions as well as being oriented towards applications and industrial suitability.

The cover illustrates a milestone in the EU-funded project entitled "Accelerator Research and Innovation for European Science and Society" (ARIES): the first testing of a hybrid technology that removes oxides of nitrogen and sulfur as well as fine particulates from the exhaust gases of diesel-powered ships. Tests were carried out in summer on a ship in Riga (Latvia) using our system. The white smoke illustrates the success of exhaust gas scrubbing using low-energy electrons.

The Electron Beam division also achieved successes in its Coating Metal and Energy Technology department with the development of a non-toxic and efficient manufacturing process for porous silicon layers, which makes it possible to produce batteries with improved performance, higher charging capacity, and good charge/discharge cycling
stability over time.

In the Plasma Technology division, packaging films are increasingly being researched that meet aspects of sustainability. A framework agreement has been signed with an important company in the packaging sector.

The method of treating seeds with accelerated electrons, which has been established for over 20 years, was again in demand in 2019. It is an environmentally friendly process that effectively kills pathogens without the use of toxic chemical agents. The Fraunhofer FEP method, which is approved for organic farming as well, was further improved, enabling producers Ceravis AG to treat 18,000 tons of seed and BayWa AG 5,000 tons of seed.

A highlight in the field of microdisplays and sensor technology was the participation of Fraunhofer FEP in the Mobile World Congress in Barcelona, Spain. Together with LetinAR from South Korea, we debuted an ultra-light, power-saving, wireless module for data glasses that combines our OLED microdisplay with their unique optics.

In the Flexible Organic Electronics business unit, the EU-funded "PI-SCALE" project was completed and the OLED pilot-line service created during this project came on-line under the name "LYTEUS".

The "pro flex" conference was held again in November. Over 20 international speakers presented talks on the wide range of options offered by roll-to-roll technologies for film and ultra-thin glass coating.

We would like to thank our customers, partners, and funding agencies for their support of our institute as well as for their trust and collaboration!