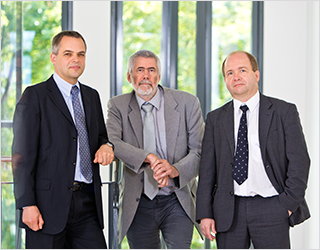 Esteemed partners of the Fraunhofer FEP and esteemed readers,

Due to the Corona pandemic, 2020 will long remain in everyone's memory as one of the most challenging years. The Fraunhofer-Gesellschaft and our institute rose quickly to the new challenges in the spring. In doing so, the well-being of our employees and customers was and is important to us.

Great thanks go to our employees who, whether in the home office or on-site at our research facilities, together supported our research mission and moved projects forward during this difficult period. At the same time, outstanding ideas for researching and combating the novel corona virus were developed at the institute during the lockdown, resulting in a number of promising projects together with additional partners: the EU INNO4COV19 project, next-generation protective textiles, and the development of mobile cleaning robots for surface disinfection. Our expertise developed over many years in sterilization using accelerated electrons, in applications for our roll-to-roll systems, as well as with near-to-eye imaging with OLED microdisplays and sensors to identify infected persons, is being incorporated into these projects.

In addition to these research activities, 2020 naturally also brought new points of view and opportunities at all levels of work. This began with joint work via digital formats, and extended to the first hybrid events, with in-person participants being digitally connected to partners in compliance with the hygiene regulations at our institute. In this way, Fraunhofer FEP was able to host the first "Technologies for Hygiene" workshop in cooperation with the Saxony Economic Development Corporation (Wirtschaftsförderung Sachsen GmbH). Likewise, we now offer digital workshops and technical conferences (such as the parts2clean Online Forum together with Deutsche Messe) in order to continue to be available as an expert partner offering technical contributions and contract research, in order to compensate for in-person events that have had to be cancelled.

Moreover, the institute has assembled a very good portfolio of EU projects during 2020. EU Project revenues were approx. 2.5 million euros, or 9.7% of total revenues . In a Fraunhofer-wide comparison, this represents a high proportion. Almost every division will be working on a wide range of solutions in EU projects over the next few years, such as improving availability of smart glass solutions for energy-efficient buildings, on perovskite-based lighting, and on the development of an innovation hub for sustainable plastic and paper surfaces. Together with Saxon, German and international partners, we are developing innovative coating technologies in many projects, such as for zeolite as an efficient energy storage material, or sensors and OLED microdisplays for products of the future.

The numerous new approaches to creating solutions, and our new and existing collaborations as well as close networking with our long-standing customers, partners and funding bodies in 2020 allows us to view the future positively and optimistically despite the unusual events of this year.

We would like to thank all our sponsors, customers, employees, and co-workers for their faithful collaboration, and hope you find this report to be interesting and enjoyable!