Completely wetting surfaces for novel heat pumps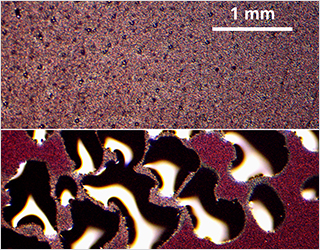 In the lighthouse project ElKaWe, six Fraunhofer Institutes are collaborating on the development of electrocaloric heat pumps for heating and cooling purposes. Fraunhofer FEP is involved in the development of wetting-enhancing coatings to ensure rapid heat transfer..
Heat pumps based on compressors are commonly used for heating and cooling purposes and have become the most frequently installed heating system in new single-family homes. However, the refrigerants used in these systems are often environmentally and health hazardous and are increasingly regulated by legislators. Solid-state heat pumps, on the other hand, operate with safe fluids such as water, are silent, and offer superior efficiency compared to compressor-based systems in the long run.

To promote this new technology, six Fraunhofer Institutes – IPM, IKTS, IAP, LBF, IAF, and FEP – have joined forces in the lighthouse project ElKaWe and are collaborating on the development of electrocaloric heat pumps. The basis for this lies in ceramic and polymer materials that respond to changes in electric field strength with an instantaneous temperature jump. The more effectively the generated heat can be dissipated, the more efficient the pump is.

In the patented concept for heat transfer, the working fluid evaporates or condenses periodically at the active surfaces to absorb or release heat. To achieve the desired performance range, this transition needs to occur up to ten times per second. This is only possible if wetting occurs through a full-surface, thin fluid film, maximizing heat transfer at the interface.

At Fraunhofer FEP, technological approaches have been developed for the treatment and coating of electrocaloric ceramic and polymer materials, ensuring their complete wetting within a very short time and maintaining this effect over extended periods (months to years). The key element consists of photocatalytically active materials with a defined adjustable surface structure. Static and time-dependent contact angle measurements, as well as microscopic examinations of wetting processes in various gas environments and pressure ranges, complement the investigations and contribute to a better understanding of the theoretical fundamentals of wetting dynamics in real solid-state materials.

The project is ongoing and will continue until the end of 2024.