Project "Smart2Go"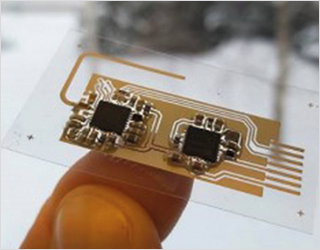 Fraunhofer FEP has been coordinating the EU Smart2Go project since 2019. The project is focused on developing a universal platform for supplying energy to portable electronic applications. One project partner is the VARTA corporation that is contributing a flexible battery less than one millimeter (0.040") thick. This is fed by various energy-harvesting technologies that can be selected and connected to the platform, depending on the energy source available.

A Finnish research center has taken over the integration of all components. Two end users will test the platform with the next generation of their products. Fraunhofer FEP itself is developing flexible, segmented OLED lighting elements for integration into textiles.

In addition, our scientists are working on the development of a suitable encapsulation technology. The crucial factor here is to achieve high mechanical robustness by means of a new lamination technology without compromising the sophisticated protective functionality.