Project "MOLOKO"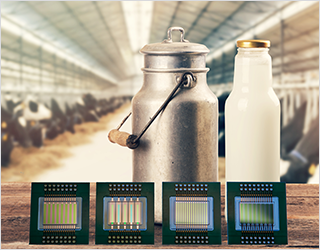 The combination of light sources and light detectors on a compact module enables reflectance or photoluminescence measurements to be performed for analytical applications. With the help of organic electronics, photodiodes and light-emitting diodes can be produced inexpensively on simple glass substrates. One example of an analytical application currently being researched as part of the EU project MOLOKO (Multiplex phOtonic sensor for pLasmonic-based Online detection of contaminants in milK) is the analysis of quality characteristics and contaminants in milk. For this purpose, the chip is combined with a nanostructured plasmonic grating, which is provided with specific antibodies. The milk to be tested is passed over the chip via a microfluidic system. The OLED-OPD platform is used to measure the change in reflectivity of the plasmonic grating.

The entire system consists of a reusable microfluidic chip, organic light-emitting transistors (OLETs) or diodes (OLEDs), a sensor comprising organic photodetectors (OPDs), a nanostructured plasmonic grating and the specific antibodies. The organic photodetector is undergoing development at the Fraunhofer FEP, and the microfluidic chip at the Fraunhofer ENAS. The OLET, meanwhile, is being developed by CNR-ISMN in Bologna, and the photonic grating by the company Plasmore Srl in Pavia, both in Italy.

Initial results from the development of the optoplasmonic chip were presented at CES 2020 in Las Vegas.