Project "Neptun"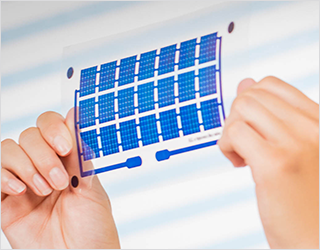 In project Neptun, fundamental investigations of new processes and materials for increasing the efficiency of CdTe solar cells were again able to be successfully carried out in 2020.

In close cooperation with our project partner, CTF Solar GmbH, efficiency of CdTe solar cells was increased by approximately 1%. The CdS layer contained in CdTe solar cells reduces the intensity of the shorter wavelengths of sunlight. Therefore, reducing the CdS layer thickness is one approach to increasing the efficiency of these solar cells. Unfortunately, reducing the CdS layer thickness not only increases the photocurrent, it also reduces the cell voltage, which as a result has not led to an increase in the efficiency up to now.

A new approach was therefore investigated in project Neptun. Plasma treatment of the base substrate (TCO-coated float glass) in vacuum was able to prevent a reduction in cell voltage when the CdS layer thickness was reduced, thus increasing the efficiency.